Celebrity News
How Much Did Kourtney Kardashian and Travis Barker's Wedding Cost? Here's an Estimate – E! Online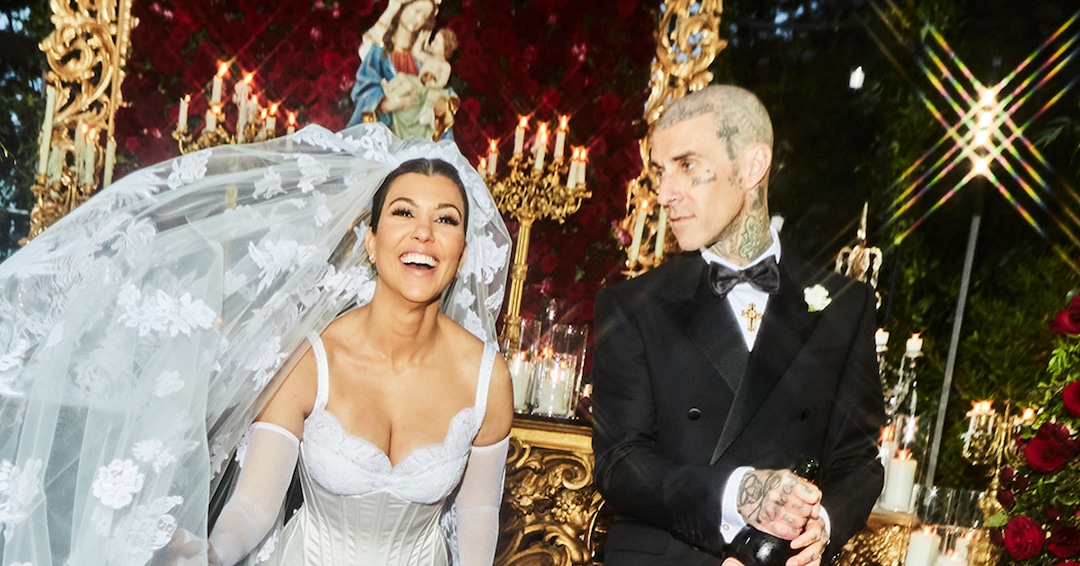 Wardrobe and Glam
Outfits: The Kardashians and Jenners wore Dolce & Gabbana throughout the weekend. If you were to wear a different outfit from the fashion house every day for three days, we'd guess you could tally up to a minimum of $10,000 per person. If we were to use the lower end of this range and assume 20 people wore these outfits, that could be about $200,000 a day.
Kourtney's Wedding Gown: The bride wore a silk-lace-and satin corseted gown by Dolce & Gabbana. While the cost of her ensemble has not been revealed, Kim's Givenchy Haute Couture gown designed by Riccardo Tisci had an estimated cost of up to $500,000, according to People. 
Glam: Glam can be expensive, with estimated house call rates for hair and makeup coming in at about $1,000 each per person. If 15 people were to get both services, that could add up to about $30,000.
Additional Wedding Costs 
Wedding Planner: Celebrity wedding planners also come with a cost. If you wanted David Tutera for instance (although he did not plan Kourtney and Travis' wedding), you would have to pay around $50,000, according to Bridal Guide. 
Wedding Photographer: While he wasn't Kourtney and Travis' wedding photographer, Italy-based photographer Jules Bower says costs for a wedding photographer in Italy can be about $16,033.95.
Activities
Yachting: Before and after Kourtney and Travis said "I do," the couple enjoyed some relaxation on board a yacht. Want to also go yachting as a post-wedding activity? While we don't know how much their specific boat cost, a 50-meter luxury yacht can cost $200,000 to $225,000 a week, according to CharterWorld. If you wanted two boats, that could add up to $450,000.
The total for these guesstimates (on the high end): under $3.5 million. 
ABCDEF…OMG! 
Share this news on your Fb,Twitter and Whatsapp