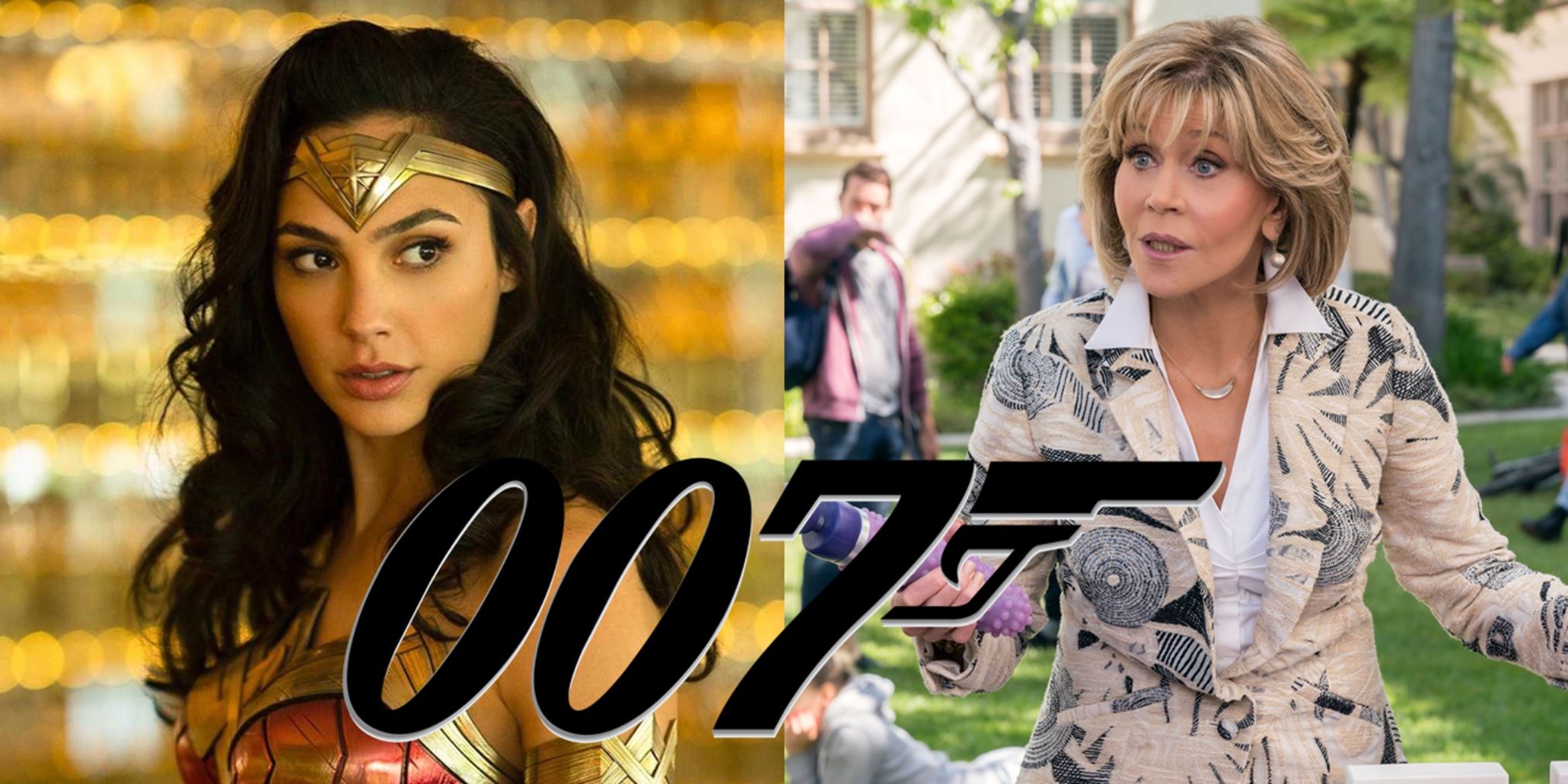 There are a bunch of hallmarks of the James Bond franchise: megalomaniacal villains, theme songs by popular artists, opening action set pieces, suave one-liners. One of the main hallmarks is "Bond girls," the colloquial term for the series' love interests. In each movie, Bond encounters a new woman, quickly falls in love with her, and except for rare cases, she's never seen again.
RELATED: 10 Actors Who Were Almost Cast As James Bond
Bond girls usually have a pun-derful name like Pussy Galore or Plenty O'Toole and they've been played by such huge stars as Halle Berry, Michelle Yeoh, and Jane Seymour, but plenty of other actors have been considered for the roles and not landed them.
Updated January 11th, 2022 by Ben Hathaway: The latest film in the franchise, No Time to Die avoided the Bond girl trope, at least in the general sense. It appears that the days are gone when the series' female characters were nothing more than eye candy. Hopefully, this also extends to the reasons why an actor can be excluded from the part because if franchise history is any indication, that's been almost 60 years coming.
Julie Christie As Honey Ryder In Dr. No
Julie Christie was considered for the role of Honey Ryder, the first-ever Bond girl, in Dr. No, the first-ever Bond movie, but the producers considered her breasts to be too small for the role. This was back in the '60s when that was unfortunately all too common in Hollywood.
Christie was later the producers' first choice to play Domino in Thunderball, but Cubby Broccoli decided against casting her. Raquel Welch was initially attached to play Domino but dropped out to star in Fantastic Voyage.
Jane Fonda As Tiffany Case In Diamonds Are Forever
The Bond girl in Diamonds Are Forever, Tiffany Case, was eventually played by Jill St. John. But before she was cast, the producers considered Jane Fonda, Faye Dunaway, and Raquel Welch, according to BBC America.
RELATED: 5 Reasons Why EON Should Keep Daniel Craig's 007 Timeline (& 5 Why They Should Reboot 007)
In the same year that Diamonds Are Forever hit theaters, Fonda gave arguably her greatest performance in Alan J. Pakula's paranoid thriller Klute alongside Donald Sutherland, for which she received an Academy Award.
Diana Ross As Solitaire In Live And Let Die
In the original script for Live and Let Die, Solitaire was Black and the CIA traitor was white. However, this ended up being switched around in the middle of pre-production. Before the switch, the producers considered casting Diana Ross (as stated in a Live and Let Die DVD bonus feature interview).
After the character was changed to be white, Catherine Deneuve, Goldie Hawn, and Helen Mirren were all considered before Jane Seymour was cast.
Faye Dunaway As Octopussy In Octopussy
A 1982 issue of Prevue magazine announced Sybil Danning to have been cast as the title character in Octopussy. However, according to Battle Royale With Cheese, Albert R. Broccoli clarified that he hadn't cast her because he considered her personality to be "too strong." Faye Dunaway was considered for the role but was ultimately deemed too expensive. Dunaway had previously auditioned to play Domino in Thunderball, but her agent persuaded her to take on a different project instead.
RELATED: 007: 10 Best Unused Ideas From James Bond Movies
Grace Jones was considered before the producers got cold feet, although she eventually got to play a Bond girl in A View to a Kill.
Elle MacPherson As Natalya Simonova In GoldenEye
Before Izabella Scorupco was cast as Natalya Simonova in GoldenEye, the movie that introduced the world to Pierce Brosnan's Bond, Elizabeth Hurley, and Angie Everhart were considered for the part. According to the Tampa Bay Times, Elle MacPherson was also in the running.
The movie was also supposed to feature John Rhys-Davies as General Pushkin from The Living Daylights when it was being developed for Timothy Dalton, but the character was replaced by Defense Minister Mishkin.
Monica Bellucci As Paris Carver In Tomorrow Never Dies
Before Teri Hatcher was cast to play Paris Carver in Tomorrow Never Dies, Monica Bellucci auditioned for the role, according to MI6. Pierce Brosnan pressed the producers to cast Bellucci, but they decided against it.
Bellucci would later be cast as a secondary Bond girl in Spectre, in which she set the record for the oldest Bond girl at the age of 50.
Sharon Stone As Elektra King In The World Is Not Enough
The producers of The World is Not Enough briefly considered Sharon Stone for the role of Elektra King, according to The Guardian. They also considered Catherine Zeta-Jones for the part and Tiffani Thiessen for Christmas Jones.
Reportedly, Geri Halliwell unsuccessfully auditioned for a role, but it's unclear which role it was. Javier Bardem, who went on to play the villainous Silva in Skyfall, was considered to play Renard.
Whitney Houston As Jinx In Die Another Day
It was ABC News who reported that Whitney Houston was considered for the role of Die Another Day's Jinx before Halle Berry got the part. Furthermore, Salma Hayek was also in the running.
Originally, the movie's Bond girl was going to be Gala Brand, taken from Moonraker, while Jinx was going to be revealed to be a mole as the big twist. However, once Halle Berry was cast and spin-off potential was there, Jinx was turned into the film's primary Bond girl and Brand became the mole, although her name was changed to Miranda Frost.
Audrey Tautou As Vesper Lynd In Casino Royale
Audrey Tautou was in the running for the role of Vesper Lynd in Casino Royale alongside Eva Green, the eventual casting choice, but she turned it down due to scheduling conflicts with The Da Vinci Code.
RELATED: Casino Royale: 10 Ways It's Daniel Craig's Best Bond Film
If any role received a lot of A-list attention, it was Lynd, because the shortlist consisted of far more than Tautou and Green. Not Starring reports that Naomi Watts, Charlize Theron, Jessica Simpson, Michelle Pfeiffer, Rachel McAdams, Thandiwe Newton (who had already starred in spy movie Mission: Impossible II), Scarlett Johansson, Jennifer Connelly, Angelina Jolie, and Keira Knightly were all considered for the role. Olivia Wilde, five years before co-starring with Craig in Cowboys & Aliens, also screen-tested according to MI6. Arguably getting the farthest, though, were Rose Byrne and Vera Farmiga (also MI6), who also screen-tested for the part.
Gal Gadot As Camille Montes In Quantum Of Solace
Before the producers of Quantum of Solace cast Olga Kurylenko as Camille Montes, Gal Gadot auditioned for the role (according to MI6). The casting director didn't think she was right for the part but asked her to audition for an upcoming Fast & Furious movie, which she booked. This ended up being her big break. Since Camille is a Bolivian intelligence agent who teams up with 007 and, while she's not technically considered a Bond girl, she is the female lead in the movie. Funnily enough, Kurylenko was later a runner-up for Gadot's true star-making role, Wonder Woman.
Along with the Montes role, Quantum of Solace's Strawberry Fields (Gemma Arterton) also received heavy attention. Among the big names in contention was Jessica Biel who, according to GamesRadar, said, "I auditioned for Quantum of Solace. I actually had a good audition. It was that sexy, 'I'm cool and I'm going to pretend like I really don't like you, but I'm definitely going to sleep with you.' Maybe next time. We'll see."
NEXT: 007: 10 Actors Who Were Almost Cast As Bond Villains
No Way Home: Tom Holland Admits To MCU's Biggest Spider-Man Problem
About The Author
Share this news on your Fb,Twitter and Whatsapp