Movie/tv News
14 Guest Stars You Forgot Were On The Big Bang Theory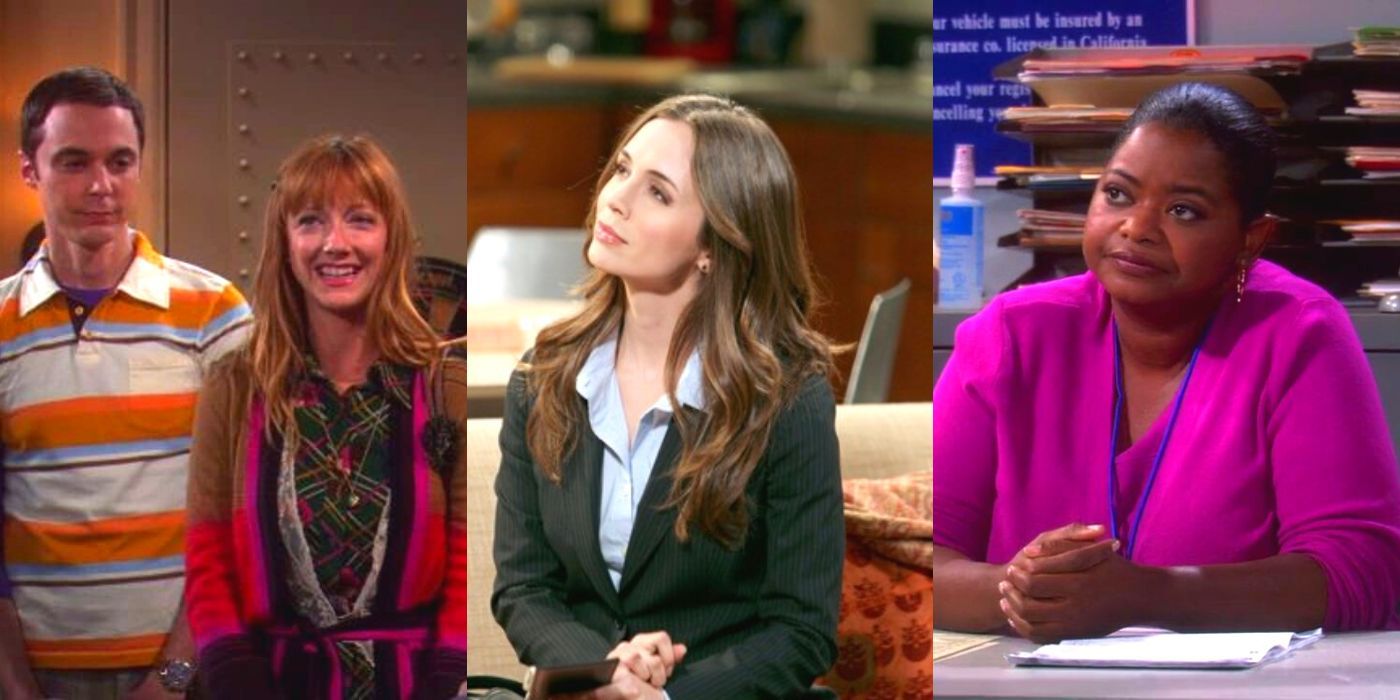 The Big Bang Theory made a splash with fans who couldn't get enough of the friendship between Sheldon, Leonard, Howard, and Raj. The inclusion of their wives and girlfriends in later seasons only added to the show's hilarity.
RELATED: 10 Guest Actors On The Big Bang Theory Who Became Hollywood Stars
Throughout the halls of Caltech and the streets of Pasadena, the A-list guest stars that graced the show was also what made TBBT exciting to watch. While some guest stars were famous before the show, others grew their celebrity years after appearing.
Updated on April 25th, 2022, by Lynn Gibbs: Although The Big Bang Theory focused on its core group of characters, side characters and guest stars were added throughout. From legendary names in the field of science to Star Trek actors, it was fun for viewers to see which star they'd have on next. Some guest stars appeared on the series before they made the big-time, which made rewatching the series all the more fun. 
Carrie Fisher As Herself
In the episode 'The Convention Conundrum,' Sheldon spent the night with Star Wars actor James Earl Jones. The two went out to eat, went to a carnival, and later played Ding Dong Ditch at Carrie Fisher's house. 
James and Sheldon rang her doorbell and then excitedly ran away when she showed up at the door with a baseball bat. However, as soon as Fisher opened the door and James, she was in no laughing mood. She screamed, "It's not funny James!" As he and Sheldon laughed while running away. Fisher's cameo was so small that most TBBT fans forgot she was in an episode. Fisher passed away in 2016 but will forever be known for her role as Princess Leia in the Star Wars franchise. 
Jodi Lyn O'Keefe As Mikayla
Jodi Lyn O'Keefe is most known for her roles in Prison Break, The Vampire Diaries, and She's All That. Instead of portraying herself like a few other stars on this list, O'Keefe played a Las Vegas prostitute named Mikayla.
In the episode 'The Vegas Renormalization,' Leslie Winkle broke up with Howard and he was sad that he was alone yet again. After their split, Howard got worse and worse before he got better. Since they were in Las Vegas, Leonard and Raj wanted to boost his confidence so they hired Mikayla to flirt and sleep with Howard. Known as "the boyfriend experience," Howard didn't realize she was a hired sex worker until after their conversation, but he couldn't even be mad at his friends because he needed the company. 
Rick Fox As Glenn
Rick Fox only starred in one episode, 'The Love Car Displacement.' Fox is a former NBA-star turned actor who has been in shows like One Tree Hill, OZ, and Melrose Place. 
In the episode, Fox played Bernadette's former professor and ex-boyfriend Glenn. The two ran into each other at a conference and Howard was immediately intimidated by Glenn's stature and good looks. Howard's reaction to Bernadette and Glenn once dating put him in boiling water and gave Bernadette some of her most savage moments. At the end of the episode, Leonard felt what Howard was feeling when Glenn drove Penny back to Las Angeles and was jealous something was going to happen between the two of them. 
Jessica Walter As Mrs. Latham
In 'The Benefactor Factor," actress Jessica Walter played Mrs. Latham, a university donor interested in Leonard's work. Her interest in Leonard's work made him appear the smartest in the group, much to Sheldon's chagrin.
As an older, respected woman with a lot of money, Leonard and co. were intimidated by her power. But when Mrs. Latham asked Leonard out to dinner to talk about his work, he felt like he had to for the better of his career. In a shocking twist, Mrs. Latham flirted with Leonard and made it clear she wanted a romantic evening with him. The two ended up sleeping together and the following morning Leonard's department was given a donation. Walter sadly passed away in 2021 but will forever be known for her roles in Arrested Development and Archer. 
Howie Mandel As Himself
Howie Mandel is a TV personality known for writing, acting, and hosting. Due to his name, he appeared in the episode where Howard (or as Bernadette called him, Howie) returned home from space. 
When Howard got off the plane, there was a group of paparazzi snapping his picture, calling out "Howie!" Howard waved and thanked them for coming but what he didn't know was that Howie Mandel was right behind him. When Howard realized his welcoming wasn't as grand as he expected, he got upset that his friends weren't there for support. 
Danica McKellar As Abby
Danica McKellar is most known for starring in The Wonder Years, but she's still acting today, appearing in a ton of TV movies and shows.
On The Big Bang Theory, she appeared in 'The Psychic Vortex.' The episode had Sheldon join Raj as his wingman when he was tired of being lonely. Raj matured in The Big Bang Theory by putting himself out there in the dating world instead of staying home out of fear. While many thought this idea would blow up in smoke, it worked in Raj's favor. McKellar played a woman named Abby who ended up going home with Raj after hitting it off at the bar. Sadly, Abby never came back after that one episode.
Charlie Sheen As Himself
Actor Charlie Sheen popped up in 'The Griffin Equivalency' during an important moment in Raj's life.
In the episode, Raj was chosen as one of People Magazine's 30 under 30 people to watch. The accomplishment went to his head and he started acting differently around his friends. Leonard, Sheldon, and Howard couldn't stand to be around his pompous energy, which led Raj to tell a random person at the bar that he was going to be in People Magazine. Sheen slowly turned around and said, "Yeah, call me when you're on the cover." This, of course, is about Sheen being a tabloid king.
Eliza Dushku As Agent Angela Page
While Howard and Sheldon eventually found common ground on TBBT, they weren't always respectful of each other. In the episode 'The Apology Insufficiency,'  Howard had the opportunity to work for NASA but needed security clearance.
Agent Angela Page visited Sheldon, Raj, and Leonard to gain more perspective on the kind of person Howard was. But after Sheldon and the group gave bad information, Angela never approved Howard's clearance. Agent Page was played by actress Eliza Dushku. Dushku is most known as Missy in Bring It On, but she's also been on the TV series Hulk and the Agents of S.M.A.S.H., Tru Calling, and Buffy the Vampire Slayer.
Judy Greer As Dr. Elizabeth Plimpton
Judy Greer has been in everything from Ant-Man, 13 Going On 30, and Modern Family — she was also in an episode of The Big Bang Theory. Greer played Dr. Elizabeth Plimpton in the episode 'The Plimpton Stimulation.'
RELATED: All Of Leonard's Relationships In The Big Bang Theory, Ranked
As a cosmological physicist, Plimpton stayed with Sheldon and Leonard when she was in town for a conference. Leonard was star-struck when he met her because he read her book and followed her work. Surprisingly, Leonard and Plimpton slept together after meeting — shortly after breaking up from Penny. Leonard wanted a relationship with Plimpton but he soon learned that she also tried sleeping with Raj and Howard.
Octavia Spencer As The DMV Worker
Iconic actress Octavia Spencer appeared in TBBT as a guest star in the episode 'The Euclid Alternative.' In the episode, the group of friends were tired of driving Sheldon everywhere and forced him to get his license.
At the DMV, Sheldon questioned Spencer's character about the test, which bothered her because he was holding up the line. Like most strangers who encountered Sheldon for the first time, she was confused and annoyed by him. Her time in the show was short but she's most known for her incredible films like The Help, Hidden Figures, and The Shack.
Summer Galu As Herself
In 'The Terminator Decoupling,' Sheldon, Howard, Raj, and Leonard were on a train heading to a conference when they saw Firefly actress Summer Glau. Everyone but Sheldon brainstormed how they would introduce themselves.
Eventually, Raj dared to make a move and the two shared a short conversation until Howard got involved. Howard thought of an inappropriate pick-up line to make his mark on Summer but it didn't work. Summer didn't want anything to do with Howard and quickly got off the train after a few selfies with him. Summer didn't have too many lines, but fans of hers recognized her from Grey's Anatomy, Terminator: The Sarah Connor Chronicles, and Arrow.
Judd Hirsch As Albert Hofstadter
Appearing in one episode in the ninth season as Dr. Alfred Hofstadter, actor Judd Hirsch starred as Leonard's successful dad. Although his dad is mentioned often throughout the seasons, viewers never saw him until Leonard and Penny's relationship timeline took them to their second wedding.
RELATED: Leonard & Penny's Relationship Timeline In TBBT, Season By Season
In this episode, viewers finally got to see Leonard's dad interact with his aggressive mother. Beverly Hofstadter ripped Albert's name to shreds every chance she got when she was on screen, but in reality, he was a loving and charming man.
Jerry O'Connell As George Cooper Jr.
Viewers never thought they'd meet Sheldon's older brother George but it happened before his wedding to Amy. Sheldon's mom didn't want him to get married without the support of his brother, so they were forced to make amends after a toxic relationship.
He first appeared in 'The Sibling Realignment' and was later seen happily at the wedding. Jerry O'Connell is most known for his hit '80s movie Stand by Me but he's also been in Sliders and Scream 2.
George Takei As Himself
The amazing thing about The Big Bang Theory is that guest stars from various shows and movies mentioned popped up from time to time. In one instance, Star Trek's George Takei appeared in season 4 as an imaginary figure in Howard's fantasy.
While Howard tried having a bedtime fantasy about Battlestar Galactica's Katee Sackhoff, George Takei invaded the vision and gave Howard some dating advice. While Howard had a great girlfriend in Bernadette, he always thought he'd end up with someone "hotter." Now in his mid-80s, Takei still acts and is most known for his time in Star Trek, Mulan, and The Simpsons.
NEXT: 10 Girlfriends Of Leonard, Raj And Howard That We'd All Love To Date
The Man Who Fell To Earth Timeline Explained: Is It A Remake Or Sequel?
About The Author
Share this news on your Fb,Twitter and Whatsapp