Movie/tv News
90 Day Fiancé: Angela Deem Shockingly Thin In New Weight Loss Reveal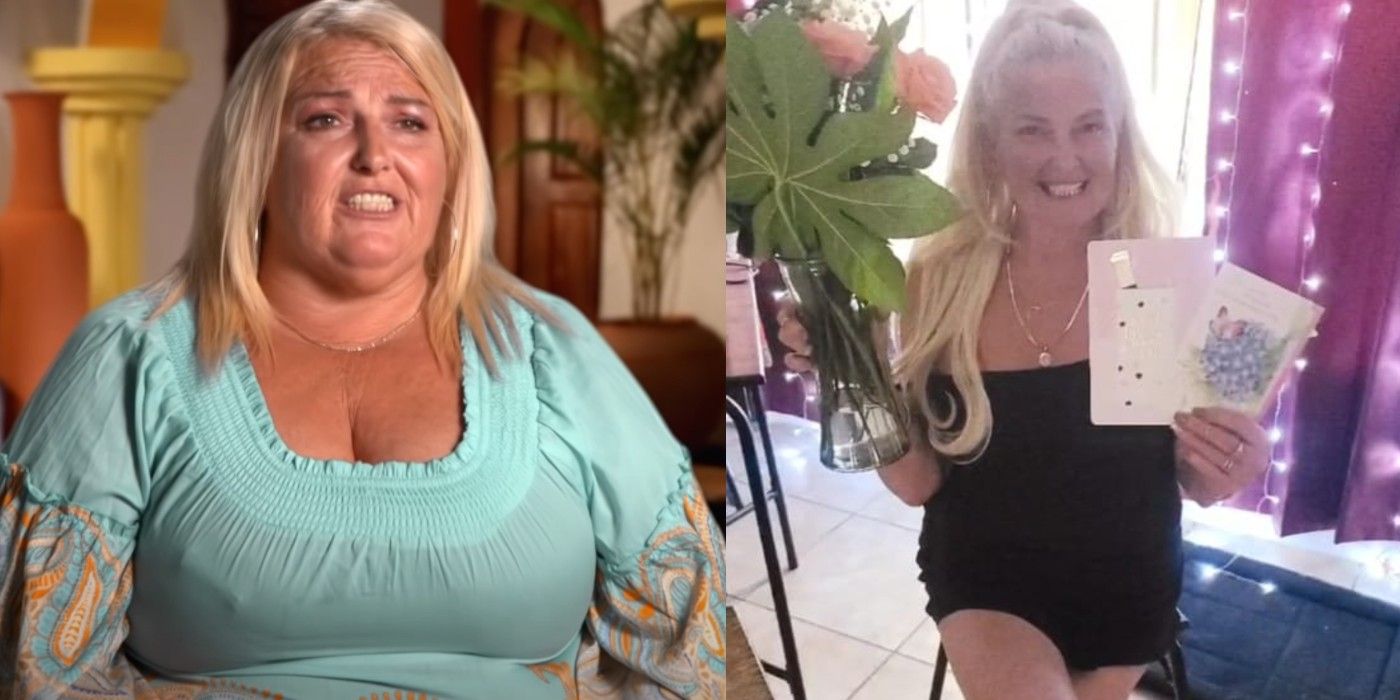 Despite smoking and sodas, 90 Day Fiancé: Happily Ever After star Angela Deem has managed to keep weight off after her risky gastric balloon surgery.
Popular 90 Day Fiancé star Angela Deem had revealed her weight loss on Instagram after surgery, in which she looks extremely skinny. The 55-year-old Angela took a huge step to physically transform herself on 90 Day Fiancé: Happily Ever After? season 6 and lost 100 pounds so far. Angela's decision was not given a thumbs up by Michael, who preferred her bigger chest over a slimmer frame and even suggested divorce if she didn't give him a baby. But post-weight loss Angela is not just looking healthier but more confident and happier than ever. As her 90 Day Fiancé followers say, she's "looking amazing."
Continue scrolling to keep reading
Click the button below to start this article in quick view.
Weight loss may not have been something Angela from 90 Day Fiancé had on her mind as she ate cakes and cupcakes to pile on the pounds post-marriage. But the long-distance relationship with her husband Michael led Angela to rethink her health and aim for a younger look for her 18 years younger husband Mike. But what worried fans was Angela not following her doctors' orders, smoking dangerously before and after surgery, and sipping on sugary colas. To add to Angela's woes, her reduced breasts made her unhappy with Dr. Michael K. Obeng having taken off two extra pounds than decided.
Related: 90 Day Fiance: Angela's Doctor Slammed for Going Against Her Wishes
But with almost a year since her August 2020 weight loss surgery, 90 Day Fiancé star Angela Deem appears to have achieved the youthful look she was aiming for. While Angela is yet to go in for a facelift, the grandmother of six wowed her Instagram fans with a selfie, in which she posed with her long blonde extensions and a natural-looking face. The weight loss product that Angela was endorsing in the post did get her called out, since TLC viewers know the secret to her slim frame is surgery. But the rest of the comments were full of praise for the 90 Day Fiancé star.
"OMG Angela 😮😮❤️🔥," wrote one of Angela's fans, while others echoed with comments such as, "Skinny Minnie!!!" "Wow @deemangela you look hot. Xx," "look at you… fabulous so happy for you." Fans have been skeptical about how Angela would manage to keep her sugar cravings away and maintain her new physique since her behavior on recent episodes of 90 Day Fiancé: Happily Ever After? has been high-key problematic. A few fans have also flagged her flirting with Dr. Obeng as irresponsible, and Angela has also been accused of being abusive towards Michael for shouting at him through her phone.
But as expected, it seems that Angela has somehow sailed through the post-weight loss surgery process just fine and will reveal her final makeover on the later episodes of season 6. With Angela's health not a concern to fans anymore, the focus could now shift to the other mystery of whether she's still together with Michael. It was Angela's weight loss decision that sparked issues between her and Michael, and with him still not in America, a few fans predict a 90 Day Fiancé divorce may be on the way.
Next: 90 Day Fiancé: Angela Accused of Being Abusive Toward Husband Michael
Source: Angela Deem
90 Day Fiancé: Rose Vega's New Beauty Transformation Applauded By Fans
About The Author
Share this news on your Fb,Twitter and Whatsapp