Movie/tv News
Animal Crossing's Most Ridiculous Vacation Home Requests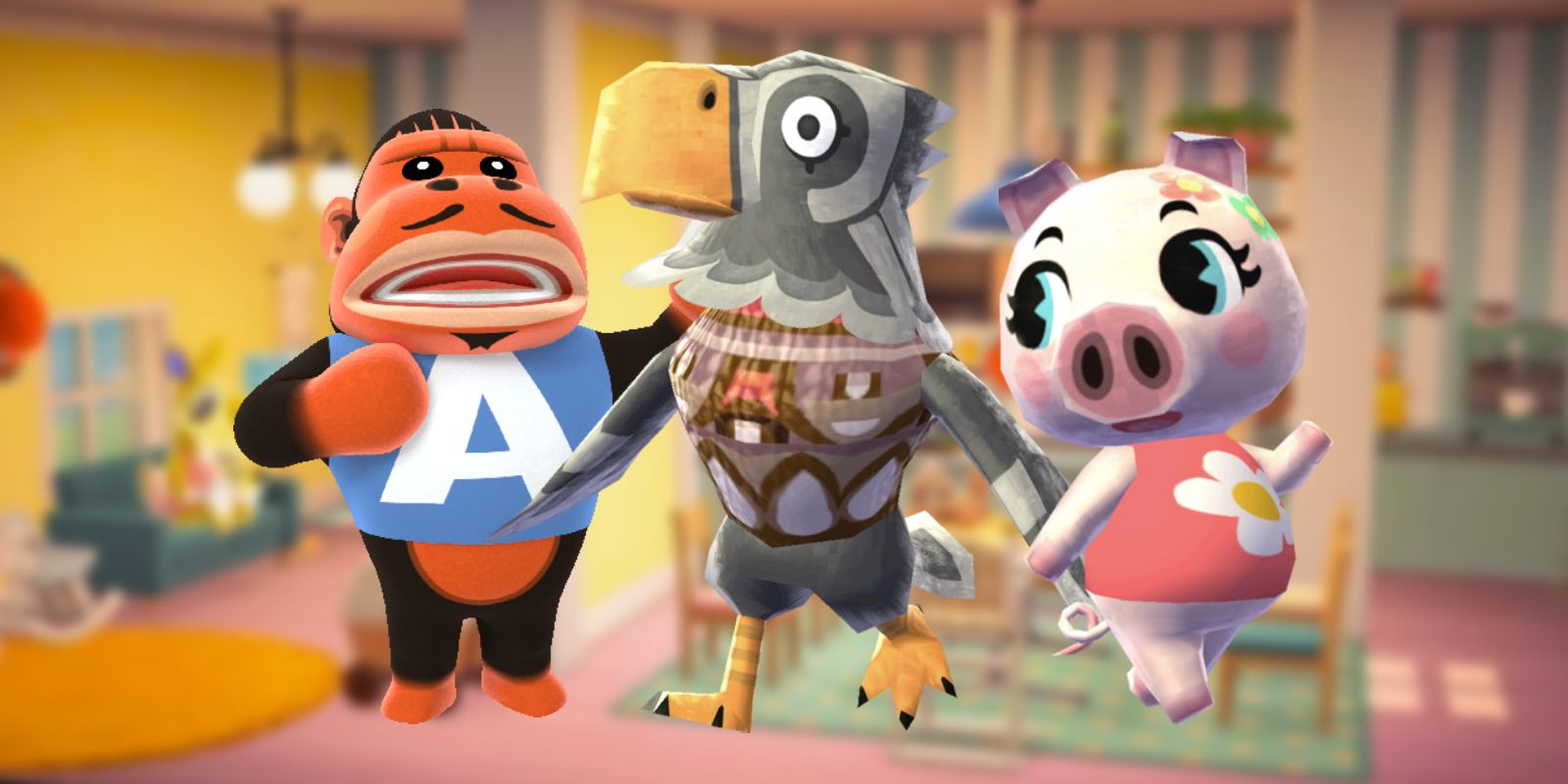 The vacation homes that villagers request in Animal Crossing: New Horizons' Happy Home Paradise DLC aren't always what players might expect, and some of the weirdest might take players by surprise. For every reasonable request, like a cozy spot to have tea or a tropical poolside retreat, there's a vision that borders on the ridiculous. Whether that be a home filled with food, an unconventional sleeping spot, or just a mismatch of quirky furniture items, there are plenty of strange requests to design in the Happy Home Paradise expansion.
The Happy Home Paradise DLC, released in November 2021 alongside Animal Crossing: New Horizons' major 2.0 update, allows players to step into the role of a Paradise Planning designer tasked with providing dream vacation homes for various villagers from the Animal Crossing series. Players earn exclusive island currency as a reward for each completed request and can use the supplied currency, named Poki, to purchase new furniture items. VIP clients such as Tom Nook and Resetti also have demands, and facilities like a school and hospital can be constructed as the DLC progresses. Happy Home Paradise had the distinction of being the first paid expansion released for New Horizons, and thus far, it's also the only one.
Related: Animal Crossing Polish Options Save The Best Choice For Last
There are dozens of vacation homes to be designed, and players can gather requests by either encountering Animal Crossing villagers on Happy Home Paradise's archipelago's beach or utilizing the Nintendo Switch's amiibo functionality to invite them over directly. Naturally, no two villagers have the same idea in mind, and each design requires different furniture items to achieve the desired vision. Each client even has a favorite K.K. Slider song and the environment surrounding the vacation home can be decorated just like the main island in New Horizons, further increasing the freedom players are given while fulfilling some of the Animal Crossing series' strangest designs.
Gala – An Animal Crossing Bank For Everyone
Gala is a normal pig villager in Animal Crossing, but unlike most other clients in Happy Home Paradise, she's not very interested in relaxing while on vacation. Instead, she'd much prefer to hang out inside a bank, helping to protect its assets and managing Bells and Poki, the currency in New Horizons. Some of the required items for her request, "A Bank for Everyone," include a reception counter and an ADB, the machine that players use to withdraw and deposit Bells. New Horizons player Andrew Arcade goes a step beyond in this design, though, making the entire house look like a bank lobby from top to bottom.
Simon – A Cool New Horizons Car Lot For Animal Crossing Villagers
Another odd request in Animal Crossing's Happy Home Paradise DLC comes from Simon, who wants nothing more than a space to line up all his cool cars for the sake of showing off his collection. As one might expect, cars make up all of the required items for this vacation home, and the use of the parking lot floor, one of many unique flooring and wallpaper designs in New Horizons, and traffic cones can allow players to make Simon the perfect lot for him to express his passion. JLMedia Gaming does just that in this design, cramming every possible space with some sort of vehicle to complete the dream vacation home. Of course, Simon isn't even the only Animal Crossing villager who'd rather show off his interests than relax. Elmer, for example, wants to live in a sock store so that he can display his favorite clothing items from New Horizons.
Biff – An Alien Animal Crossing Cyborg Lab
Biff is a jock villager in Animal Crossing and, predictably, is looking for a vacation home that can help him get a "bigger, buffer bod." What's unusual is that he seems to think the best way to go about this is by taking a sci-fi approach to this New Horizons design and getting abducted by aliens into a cyborg lab. Science pods and flying saucers are required components of this design in Happy Home Paradise,  and fortunately, there are plenty of other sci-fi-themed furniture items in New Horizons to work with. Animal Crossing player SERA JAMES uses starry wallpaper and spacesuits to sell the image of an alien lab further, exactly what Biff was looking for.
Related: Animal Crossing's Most Beautifully Hideous Villagers
Cesar – A Half-Built Animal Crossing House
Cesar's dream vacation home is one of the strangest of all. He doesn't even want a finished home. Instead, he requests "A Half-Built House," something that's not quite done yet. Perhaps he wants a solid foundation to work on himself? After all, there are countless design ideas to use in Animal Crossing: New Horizons. Whatever the case may be, his design requires a cone, a safety barrier, and a cement mixer to be complete. One of the more fun aspects of this challenge is the liberty that Animal Crossing players can take with the yard surrounding his house, filling it with dirt piles via New Horizons' terraforming feature and construction vehicles to indicate it's very much still a work in progress. JLMedia Gaming's design utilizes all these tools and more to put together a half-completed project just for Cesar.
Peggy – An Animal Crossing Supermarket Full Of Samples
During her vacation, Peggy is looking to become a food reporter, browsing through a "Supermarket Full of Samples" and telling everybody what's good and what's not. A TV camera, store shelf, and podium are the three required Animal Crossing furniture items in this design, but there are ways to take it above and beyond what Peggy requests. In this design by opalpika1328, a wallpaper themed to look like the shelves of a store helps push the illusion, and there's even a checkout stand to make it feel more realistic. Peggy is far from the only New Horizons villager to request a food-inspired home in Happy Home Paradise, though. Lyman wants to live alongside various veggies, the popular Animal Crossing duck villager Ketchup wants to be surrounded by tomato-based dishes, and others want to see lots of seafood, pasta, or bread available.
Tabby – A Scary Old Animal Crossing Hospital
Tabby is one of New Horizons' many cat villagers, quite a few of which are often considered the cutest villagers in Animal Crossing. Her dream home, however, is just about the exact opposite. Tabby wants "A Scary Old Hospital" to lounge around in, complete with skeletons, hospital beds, and operating-room carts. JLMedia Gaming adds piles of bones, crumbling walls, and dirty floors to the design, hopefully providing Tabby with the spooky experience she's looking for on her island vacation. Surprisingly, she isn't the only New Horizons villager to request something medical-related. Ozzie wants to move into a health examination station, for instance.
 Avery – A Rocky New Horizons Refuge
Avery's initial request seems reasonable enough. He wants somewhere quiet to spend his vacation. What's unusual, though, is that he'd prefer the company of rocks to achieve that silence. He's far from the only villager who'd like a house made out of the unusual materials available to farm in New Horizons, though. Nate wants a fort entirely made out of cardboard, and Papi would like nothing more than hordes of wooden furniture. Rocks are by far the most uncomfortable of the bunch, though. Avery's "Rocky Refuge" vacation home requires furniture that includes garden rocks and a stone arch. A house made of rock doesn't necessarily have to be bare-bones, however, as Fulish Fuji proves in this design that makes a cozy island getaway out of what might have otherwise been a drab and dreary place.
It just goes to show that with enough creativity, Animal Crossing: New Horizons players can make impressive home designs out of even the strangest of materials available in the Happy Home Paradise DLC. It's a nearly endless exercise in creativity and vision, especially for these weirdest design requests from villagers.
Next: Animal Crossing: New Horizons Kitchen Design Ideas
Why Maguire & Garfield's Spider-Man Universes Never Had Avengers
About The Author
Share this news on your Fb,Twitter and Whatsapp