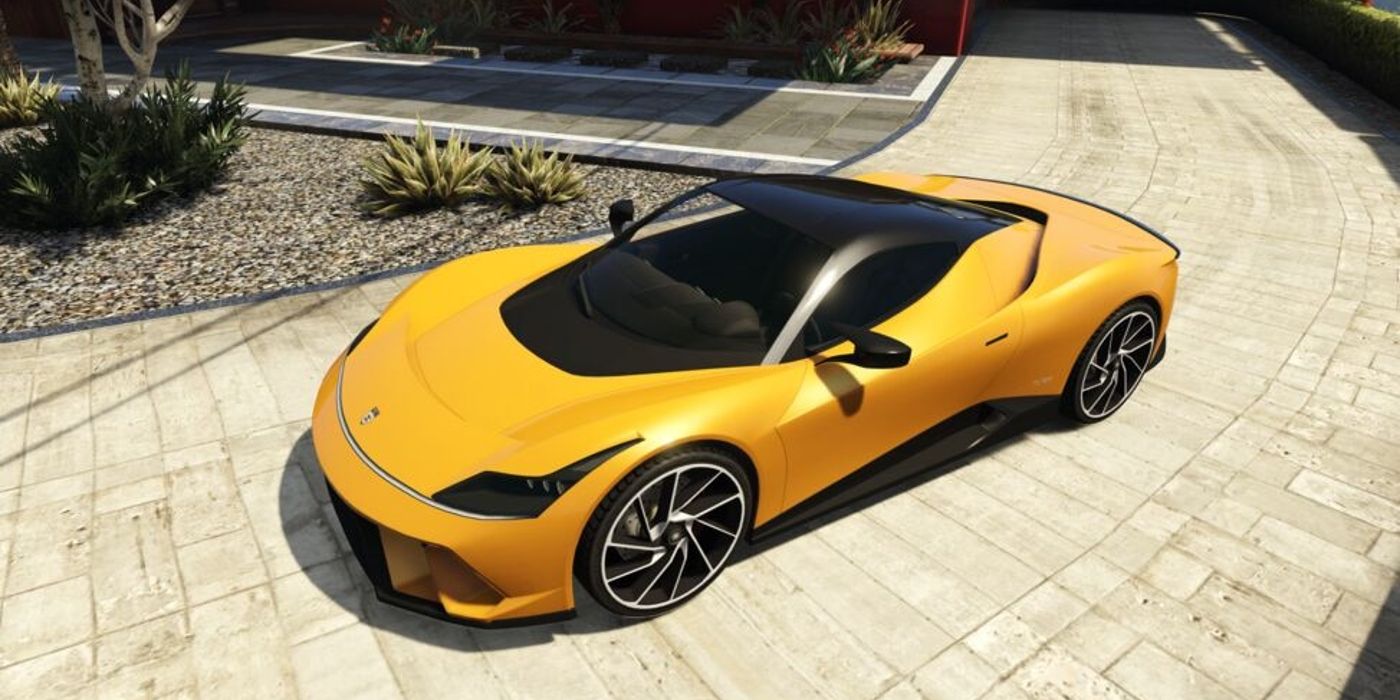 The most recent update for GTA Online includes the new Lampadati Corsita vehicle, and it can be purchased or obtained for free with a GTA+ membership.
The Lampadati Corsita vehicle was recently added to Grand Theft Auto Online in the Criminal Enterprise update, and there are two ways to obtain it. Although the vehicle can technically be obtained for free, it will require a GTA+ subscription. Otherwise, players can get the vehicle as a one-time purchase using their in-game phone. After ordering the vehicle, players can choose which garage they want to store it in.
The acceleration and traction are maxed out at 100% on the Lampadati Corsita, and its speed is at about 87%, so overall the performance is impressive. However, braking is at about 43%, so the vehicle does have its flaws, but it still handles well. This new vehicle comes in the standard eight colors that are available for most cars. After obtaining the Lampadati Corsita, players can make modifications, including changes to the color, at Los Santos Customs.
Related: How to Earn Unlimited XP With Payphone Hit Exploit in GTA Online
In order to get a Lampadati Corsita, players will need to go to the Legendary Motorsport website via the in-game phone in GTA Online. This vehicle costs $1,795,000, but it's also available for free for GTA+ members until August 31, 2022. The subscription has a monthly fee of $5.99, but it's only available on PlayStation 5 and Xbox Series X|S. Anyone playing on older consoles will need to earn enough money or purchase Shark Cards to obtain the Lampadati Corsita.
How To Earn Money & Purchase The Lampadati Corsita In GTA Online
With the release of the Criminal Enterprise update, there are a few new ways for players to make money. There are new missions at the player's Clubhouse, such as Bar Resupply. However, there are also plenty of ways to make money fast outside of the new content. Completing heists in GTA Online, like the Cayo Perico or Diamond Casino heists, is a great way to start accumulating large sums of money.
Aside from heists, VIP work can be fairly profitable, and there are a variety of other businesses where players can earn passive and active income. Players can also earn bonuses for completing the new jobs introduced in the Criminal Enterprise update. However, the increased cash rewards will only be active until August 3, 2022. The missions will still be available after that, but no bonuses will be rewarded for completing them.
If players want to get the Lampadati Corsita without any grinding, they can purchase Shark Cards. The cost will depend on how much money the player already has. One Great White Shark Card and one Bull Shark Card in GTA Online, which cost $19.99 and $9.99 respectively, would add up to $1,750,000, so only $45,000 more would be needed to get the new vehicle. After purchasing the Lampadati Corsita, players can customize it and start driving around Los Santos in Grand Theft Auto Online.
Next: GTA Online PS5 Guide: How To Get Started With A New Character
Grand Theft Auto Online is available for Xbox One, Xbox Series X|S, PlayStation 4, PlayStation 5, and PC.
New GTA Online Update's Nightclub Change Turns It Into Road House
About The Author
Share this news on your Fb,Twitter and Whatsapp