Movie/tv News
Jonah Hill Reacts To Red Wedding After Finally Watching Game of Thrones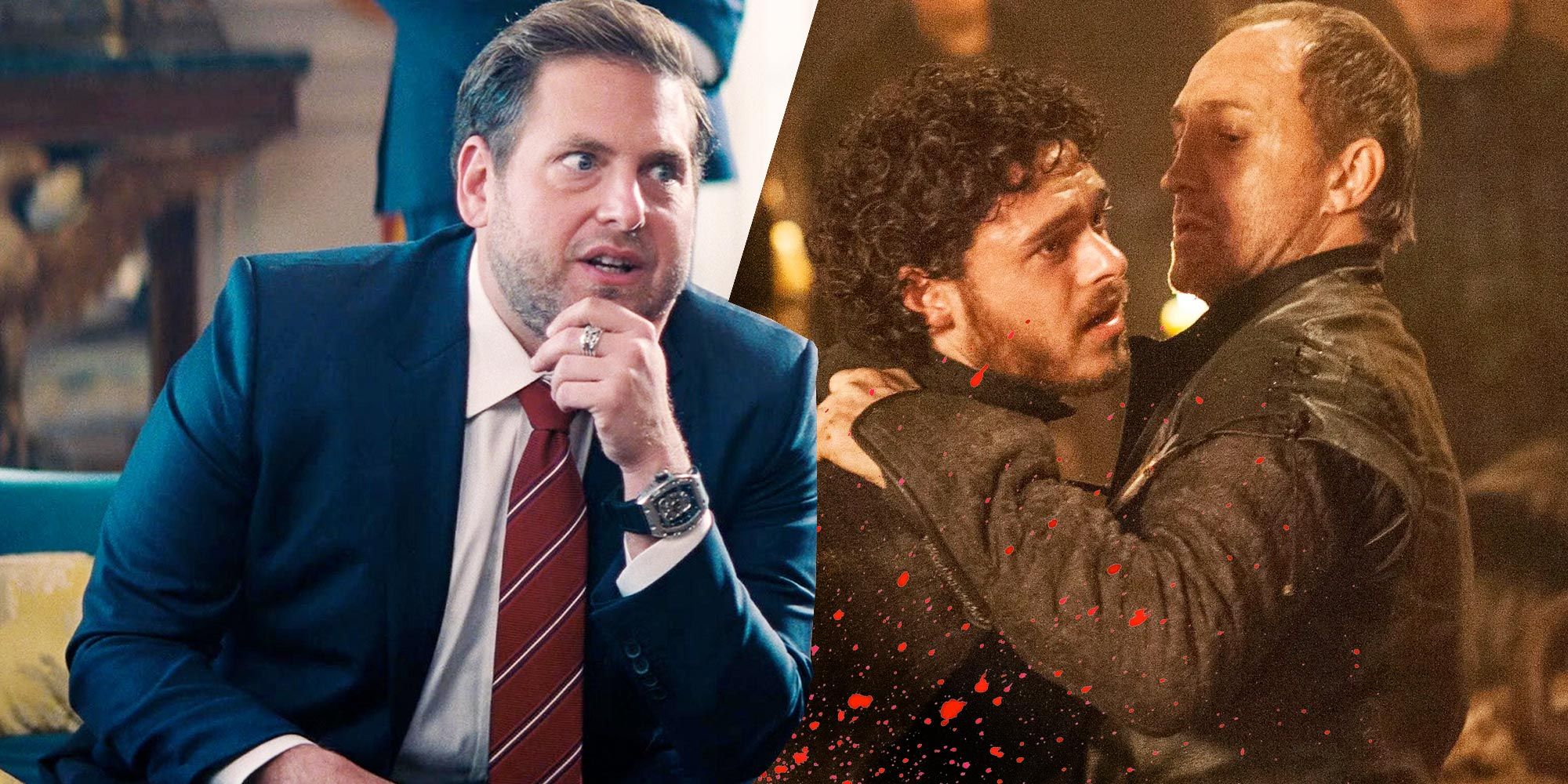 Actor Jonah Hill reacts to the shocking Game of Thrones Red Wedding episode after finally catching up and binging the show during quarantine.
Actor Jonah Hill shares his delayed reaction to Game of Thrones' Red Wedding episode after finally binging the show. Hill is currently starring in the Adam McKay comedy Don't Look Up on Netflix. The actor is best known for his comedy work like Superbad and 21 Jump Street, but has advanced as a dramatic actor as well, having been nominated for an Oscar twice for his work in both Moneyball and The Wolf of Wall Street.
Game of Thrones is the HBO fantasy series based on the series of books by George R.R. Martin, which was a cultural phenomenon, particularly while it was airing. The show starred Kit Harington, Emilia Clarke, Peter Dinklage, Lena Headey and many more, including Eternals' Richard Madden, who played Robb Stark, a key character in the series. In the most shocking episode of the series, Stark, his wife, unborn child, and mother are all killed in what was deemed "The Red Wedding." The episode is still talked about today as one of the most horrifying episodes of any show.
Related: Game of Thrones: The Real-Life Inspirations Behind The Red Wedding
Hill is just figuring that out, as the actor most recently started binge-watching the show during quarantine, as he recounts to W Magazine. "I don't watch sci-fi and stuff like that, so I had never seen Game of Thrones. Never seen an episode. I started in the past couple of months. I'm on season 4 … Game of Thrones is so sick," the actor said, leading up to the tragic "Red Wedding." The distressing event from the show proved to have a lasting effect, as Hill seemed to be aware of it when it happened, but felt the intensity in real-time as he finally watched the show, sending him into a frenzy that most fans experienced when it aired initially in 2013.
I know this is hilarious, because I'm in 2012. I'm just watching three episodes at a time, like you would binge any show. But I forget this happened in real time and was like a cultural event. So I watched the Red Wedding, as one of three episodes I watched that night. I'm calling friends, like, "Oh my god, Robb Stark got killed, blah, blah, blah." And they're like, "Yeah, dude. It was like the end-of-Sopranos-level cultural event."
While Hill may not be appearing in any Game of Thrones shows at the moment, the actor is busy lining up new projects after taking a bit of a hiatus that last few years. Hill is set to play the famed musician Jerry Garcia in Martin Scorsese's biopic about The Grateful Dead, as well as co-star with Eddie Murphy in an untitled comedy from Kenya Barris. Game of Thrones makes its return later this year with the prequel series House of the Dragon.
With so many amazing shows available to watch on streaming at this point, it's impossible to catch them all, so Hill can be forgiven for jumping on the Game of Thrones train late in the game. Hill isn't the first to catch a popular show after its cultural movement and he won't be the last. The compelling aspect of Hill's belated reaction is the testament to the lasting power of "The Red Wedding" which has reverberated as a moment in TV history that won't soon be forgotten, especially as newcomers like Hill continue to discover it.
Next: Why The Red Wedding Is Still Game of Thrones' Most Shocking Moment
Source: W Magazine
Why Book Of Boba Fett Episode 3's Bike Chase Was So Bad
About The Author
Share this news on your Fb,Twitter and Whatsapp