Movie/tv News
Marvel's Avengers MCU Kate Bishop Outfit Hits The Bullseye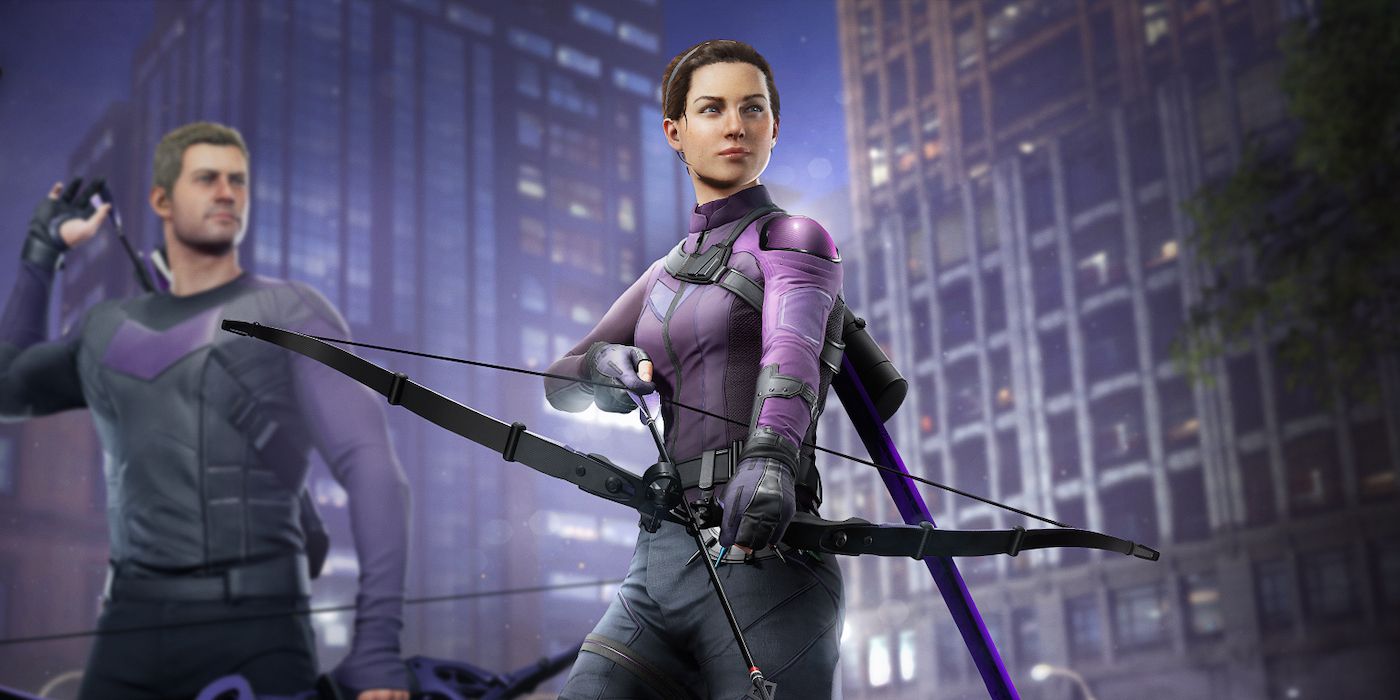 Marvel's Avengers is known for its Marvel Cinematic Universe skins, and Kate Bishop's outfit from the series Hawkeye has now been introduced.
Adding to the game's lineup of Marvel Cinematic Universe skins, Marvel's Avengers has added Kate Bishop's costume from the Disney+ show Hawkeye. Crystal Dynamics' multiplayer superhero title launched without MCU-inspired suits, but they have since become one of the game's most popular features. Marvel's Avengers includes multiple MCU Hawkeye outfits, including his designs from Captain America: Civil War and Hawkeye, and now his partner Kate has a suit to match.
Paying homage to the superhero team's live-action counterparts, Marvel's Avengers' cosmetic MCU skins always manage to captivate the title's fanbase. Crystal Dynamics started off by adding a set of outfits based on Avengers: Endgame, with each character looking as if they stepped right off the big screen and into the game. Since then new cinematic cosmetics have been introduced on a regular basis, with Black Widow now having MCU outfits from Avengers: Infinity War, Endgame and two from her 2021 solo film. Hawkeye's MCU costumes in Marvel's Avengers are also pulled from three different sources, and his look from his Disney+ series is now part of a matching set.
Related: Marvel's Spider-Man & Marvel's Avengers Spidey Suits Compared By Fans
Pulling straight from the recent Hawkeye Disney+ series, Marvel's Avengers has just revealed Kate Bishop's MCU outfit via Twitter. The purple tactical outfit is authentically recreated within the game, and it serves as a perfect companion to Clint Barton's attire. The cosmetic also pulled Kate's hair is back into a tight bun, with some fans on Twitter criticizing the look as inauthentic and unappealing. Kate Bishop's MCU outfit will be available for purchase in the Marvel's Avengers Marketplace starting on January 20.
She'll need a bow and arrow. 🎯

Inspired by the Marvel Cinematic Universe, Kate's Marvel Studios' Hawkeye Outfit shows an archer meeting her favorite Avenger.

Get it in the Marketplace on January 20! Stream Marvel Studios' Hawkeye on Disney+. pic.twitter.com/7QaWrScJxM

— Marvel's Avengers (@PlayAvengers) January 20, 2022
While Crystal Dynamics continues to support the game with new Marvel Cinematic Universe cosmetics, the future of Marvel's Avengers is currently uncertain. The developer has yet to reveal a new content roadmap, with the last outline of content having concluded with a substantial update back on November 30, 2021. Rumors suggest that Marvel's Avengers She-Hulk DLC is currently in the works, with the emerald Avenger acting as the title's next additional playable hero. The leaks point to Krizia Bajos as She-Hulk's voice actress, and the performer seems to have confirmed her involvement through a response on social media.
Hailee Steinfeld's portrayal of Kate Bishop on Hawkeye was widely beloved by fans, leading to high demand for her gear in Marvel's Avengers. Crystal Dynamics has finally delivered on that request, transferring the character's live-action design directly into the game. While many fans are disappointed by the outfit's hair style, the costume itself is a worthy adaptation of the master archer's live-action adaptation.
Next: Marvel's Avengers Player Recreates Iconic MCU Images With Photo Mode
Marvel's Avengers is available on PlayStation 4, PlayStation 5, Xbox One, Xbox Series X/S, PC and Google Stadia.
Source: Marvel's Avengers/Twitter
Amazing Race: Why Anthony & Spencer Didn't Return After The Delay
About The Author
Share this news on your Fb,Twitter and Whatsapp