Science
Climate change and vanishing islands threaten brown pelicans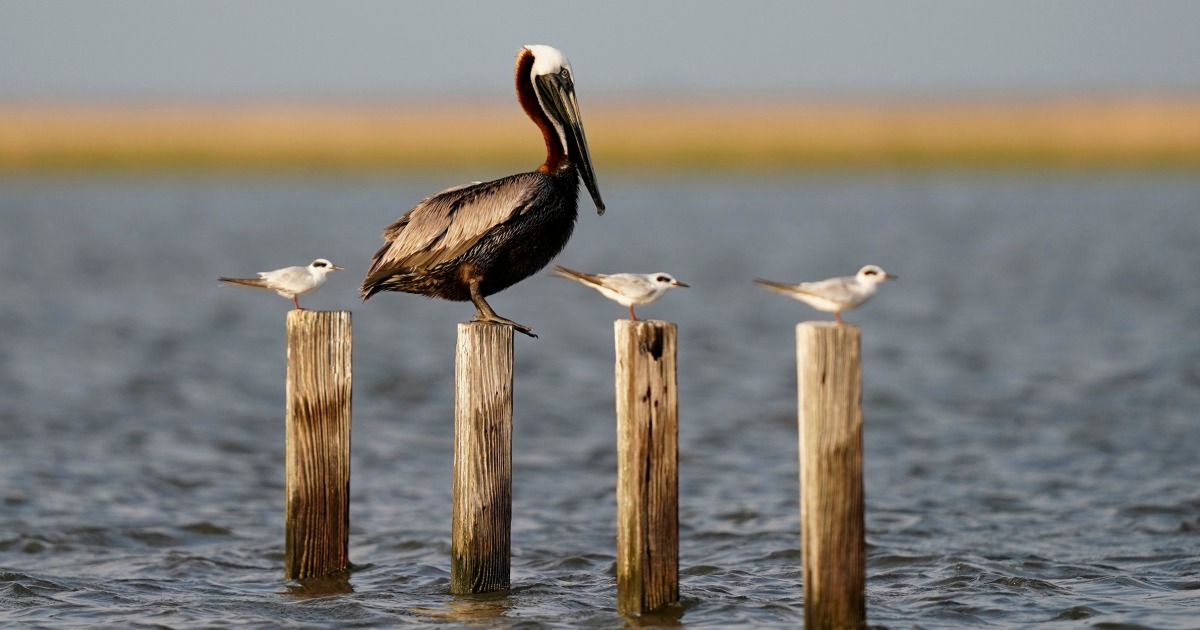 Every few years, government agencies undertake work to restore and maintain some of the barrier islands, an unending labor. The money comes, for now, from a legal settlement after the 2010 Deepwater Horizon oil spill that killed hundreds of thousands of marine animals.
But it won't last forever — and many sinking islands aren't restored at all.
On another day, the biologists steer their aluminum boat past an unrestored island called Philo Brice. Mangroves grow on low inundated land, and pelicans nest in the upper branches, chicks craning as parents land with meals of fish.
It's still a decent breeding habitat, as long as the soil holds and plants remain above water. "In five or 10 years, it may or may not be here. It's that rapid," said Slaton.
Flying in a small plane at 500 feet (152 meters), low enough to see the heads of pelicans poking from mangroves, the difference between Raccoon Island and unrestored Philo Brice is stark: One is solid land, the other like soft bread dissolving in a soup of blue.
When the biologist Juita Martinez conducted research in coastal Louisiana between 2018 and 2021, she found the number of pelicans on another unrestored and flooded island, Felicity, dropped from 500 to about 20.
"In the last decade or two, we've lost so many pelican nesting sites," she said.
Brown pelicans can live more than 20 years, and in long-lived seabirds the impact of breeding troubles takes time to become clear.
For now, pelicans are still common in coastal Louisiana, and their likenesses are everywhere — license plates, mugs, T-shirts, restaurant signs and university seals.
At the Bayou Boogaloo music and arts fair, pelican artwork often sells out first, said New Orleans painter Patrick Henry, standing with his brightly colored bird portraits.
The brown pelican "is a symbol of Louisiana, just like the eagle is a symbol of America," said Rue McNeil, executive director of the Northlake Nature Center in Mandeville, Louisiana. "It was put on the state flag because that particular bird represents a lot of strength."
And "sacrifice," she added.
The disappearing islands aren't only a problem for the birds.
One recent afternoon, Theresa Dardar calls out to neighbors as she and her husband Donald take their small boat down the Pointe-au-Chien Bayou in southeastern Louisiana.
Everyone knows everyone here in the close-knit community of the Pointe-au-Chien Indian Tribe. But their world is fast changing.
"This bayou, I used to ride down it with my grandfather. I could reach out and pull the grass on the land on either side of the boat," Dardar recalls. "But look how wide the water is now — all that land is gone."
The boat passes a single white cross on a low bank — marking one of the tribe's eight cemeteries on the bayou. The community is worried that rising seas and storm waves will wash away their ancestors, memories and culture.
Dardar supports efforts to restore the islands. "I'm glad that they're doing that for the pelicans, but also they need to do it for the humans as well," she said.
Share this news on your Fb,Twitter and Whatsapp