USA
Questions mount about the law enforcement response to the Texas elementary school massacre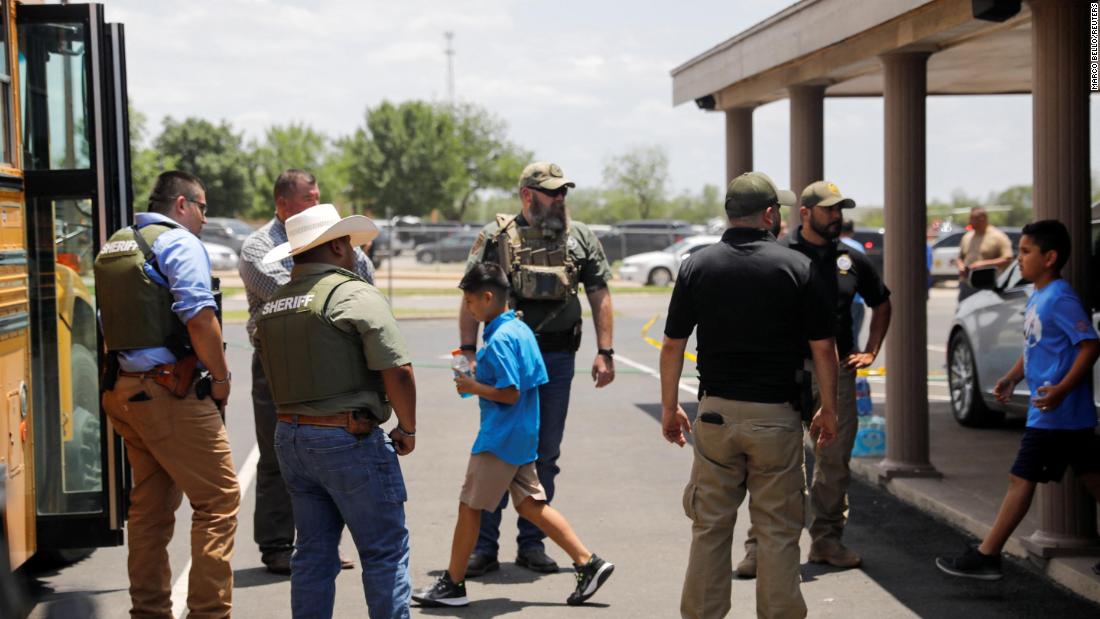 At least seven officers rushed into Robb Elementary within four minutes of the shooter's arrival, DPS spokesperson Chris Olivarez told CNN. But why it then took nearly an hour for rescuers to breach the classroom where the gunman barricaded himself also isn't clear.
"We deserve to know what happened. These parents deserve to know what happened," state Sen. Ronald Gutierrez, whose district includes Uvalde, told CNN on Thursday.
"I know there was a failure here," Gutierrez added, noting he has seen video of law enforcement entering the building and the standoff. "And I feel in this situation, standing back was not the thing to do."
11-year-old played dead to stay alive
To survive the nightmare, Miah Cerrillo, 11, smeared her friend's blood all over herself and played dead, she told CNN.
Miah and her classmates were watching the movie "Lilo and Stitch" when teachers Eva Mireles and Irma Garcia got word of a shooter in the building. One teacher went to lock the door, but the shooter was right there — and shot out the door's window, Miah said.
As her teacher backed into the classroom, the gunman followed. He then looked a teacher in the eye, said "Goodnight," and shot her, the girl recalled.
And then he opened fire, shooting the other teacher and many of Miah's friends. Bullets flew by her, Miah said, and fragments hit her shoulders and head.
The gunman next went through a door into an adjoining classroom. Miah heard screams and more gunshots. When the firing stopped, the shooter started playing music that was "sad, like you want people to die," the girl said.
Scared he would come back to kill her and her few surviving friends, Miah put her hands into the blood of a slain friend lying next to her and smeared herself with it, she said.
The girl and a friend managed to grab a dead teacher's phone and call 911 for help, she said. She told a dispatcher, "Please send help because we're in trouble."
The pair then lay down and played dead.
As they kept still and gunman holed up, chaos and confusion reigned outside the school. Fraught parents showed up and implored law enforcement to let them go in. One father asked officers to give him their gear, he said.
"I told one of the officers myself, if they didn't want to go in there, let me borrow his gun and a vest and I'll go in there myself to handle it. And they told me no," Victor Luna told CNN. His son Jayden survived.
Instead, officers held parents behind yellow police tape, refusing to let them enter as crying and screaming echoed around them, several videos show. After about an hour, a US Border Patrol tactical team forced its way into the classroom and fatally shot the gunman, Escalon said.
What we know about the shooting timeline
After shooting his grandmother in her home, Ramos drove to Robb Elementary, where he crashed his truck in a nearby ditch, DPS Sgt. Erick Estrada said. It's unclear why he crashed.
The shooter then fired at two witnesses across the street before walking toward the school and shooting at the building, according to Escalon.
There were no officers outside the school to stop Ramos, who "walked in unobstructed initially," Escalon said Thursday. Earlier information about a school resource officer engaging the gunman was "not accurate," he said.
Ramos got into the building through an apparently unlocked door at 11:40 a.m., Escalon said. That door is normally locked, "unless you are leaving to go home on the school bus," former principal Ross McGlothlin told CNN.
Inside the school, the shooter barricaded himself inside two adjoining classrooms and fired more than 25 times, Escalon said.
At 11:44 a.m., law enforcement arrived and entered the school. Three officers went in the same door the shooter used and four used a different entrance, Olivarez told CNN.
When they confronted the shooter, he fired at them and they took cover. Two responding officers were shot; their injuries were not life threatening, said Uvalde Police Chief Daniel Rodriguez.
"It is important for our community to know that our officers responded within minutes" alongside school resource officers, he said.
Officers then called for more tactical teams and resources, such as body armor, while they worked to evacuate teachers and students, Escalon said. About an hour later, a US Border Patrol tactical team entered and killed Ramos, he said.
When asked for more details at a news conference about what exactly responding officers were doing in the hour-long period, Escalon declined to provide further information.
Grieving community reckons with aftermath
For survivors, trauma is sinking in. Edward Timothy Silva, a second grader who hid behind desks in the dark at the school as he heard loud noises in the distance now wonders: "Does he have to go to school next year," his mother Amberlynn Diaz said.
"And I just don't want him to be afraid of school," she said. "I want him to continue learning and not be scared of going back to school. I want him to have a normal life again."
CNN's Tina Burnside, Carroll Alvarado, Joe Sutton, Shimon Prokupecz, Travis Caldwell, Jamiel Lynch, Andy Rose, Amanda Musa, Alexa Miranda, Monica Serrano, Amanda Jackson, Caroll Alvarado, Eric Levenson and Holly Yan contributed to this report.
Share this news on your Fb,Twitter and Whatsapp